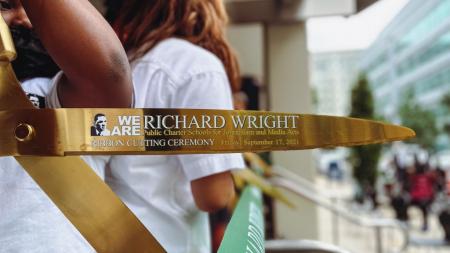 Celebrating the Completion of our New School
Washington, DC, September 20, 2021 - The Richard Wright Public Charter Schools for Journalism and Media Arts campus has changed dramatically. The school celebrated the completion of its new state-of-the-art facility at 475 School Street SW on Friday, September 17, 2021, from 12-2pm with an official ribbon-cutting ceremony attended by students, parents, alumni, faculty, staff, partners, donors, community, educational, business, and political leaders. This building marks the first facility owned and operated by its founders of color since its humble origins in a house garage and church basement eleven years ago. The major completion of the first phase of expansion serves to develop, educate, and cultivate young creatives, innovators, multimedia storytellers, and leaders in the District.
The new Richard Wright school features music, dance, film, art, and news studios, learning labs, collaborative learning spaces, community lounges stimulating creativity at every level. Lower and Upper School Academy classes began in the building starting in August 2021. At five stories and 62,500 square feet, Richard Wright Schools is now the first public high school open in the Southwest quadrant in over 50 years.
The ribbon-cutting opened with live music and Master of Ceremonies, Madelyne Woods, news anchor for Black Information Network (BIN), as well as an opening invocation from Richard Wright Board of Trustees member, Rev. Melvin Milton Maxwell, Sr. Pastor of East Friendship Baptist Church. Dr. Marco Clark, Richard Wright Founder & CEO, welcomed guests and shared an emotional moment of what the new building means to this educational community, and most importantly its students. He acknowledged the many notable guests integral in the fruition of this dream, including the Richard Wright Board of Trustees. One of the Founding Board Members, Millree Williams was present in support, representing the DC Charter School Alliance led by Founding Executive Director Shannon T. Hodge.
Speakers included Dr. Faith Gibson Hubbard, Director of the Mayor's Office of Community Affairs; Ward 8 DC Councilmember Trayon White; Dr. Christina Grant, DC State Superintendent of Education; Dr. Michelle Walker-Davis, DC PCSB Executive Director; and Vyllorya Evans, Education, and Scholarship Task Force Chair of the Southwest Neighborhood Assembly (SWNA). Ward 6 Councilmember Charles Allen was represented by Community Liaison Naomi Mitchell who shared a Letter of Congratulations from Councilmember Allen. Representing the Omega Psi Phi Fraternity, Inc. under the leadership of Grand Basileus, Dr. David Marion, was Kelvin Ampofo, 2nd District Representative of the Omega Psi Phi Fraternity, Inc. who presented Richard Wright with a check for $10,000. Many other sponsors, donors, and longtime supporters and partners were also in attendance.
The program closed with remarks from Gregory K. Adams, Sr., Chairman of the RW Board of Trustees, and a moving closing affirmation from Rev. Tony Lee, Founder & Sr. Pastor of Community of Hope AME. But truly one of the most impactful and heartfelt moments were the words shared from Student Ambassador Skye-Ali Johnson, DC State Board of Education Student Representative, Class of 2022, who said,
"Every opportunity Richard Wright has given me, I am extremely grateful for. Once again I could have never envisioned myself doing some of these amazing things years ago. But now I am striving for high goals and achievements. I want to be somebody in this world. I want my name to leave an outstanding impression because I aspire to make an impact in my community all because of the amazing family I have here at Richard Wright. Because of Richard Wright, I am spreading my wings and continuously pushing myself because I know I am destined for greatness."
The inspirational words spoken by Student Ambassador Skye-Ali Johnson set an uplifting and celebratory tone for all of the speakers. Complementing the inspirational reverie performing John Lennon's "Imagine," were Richard Wright's very own Music Director Roger Murray on the keyboards, Music Production instructor Dwayne Charlton on vocals, and Visual Arts Instructor Anthony Carr on acoustic guitar. The ceremony closed with the Richard Wright Choral Ensemble leading the community in the "Richard Wright School Song" as students and guests cut the ribbon, signifying a historic moment for this unique school.